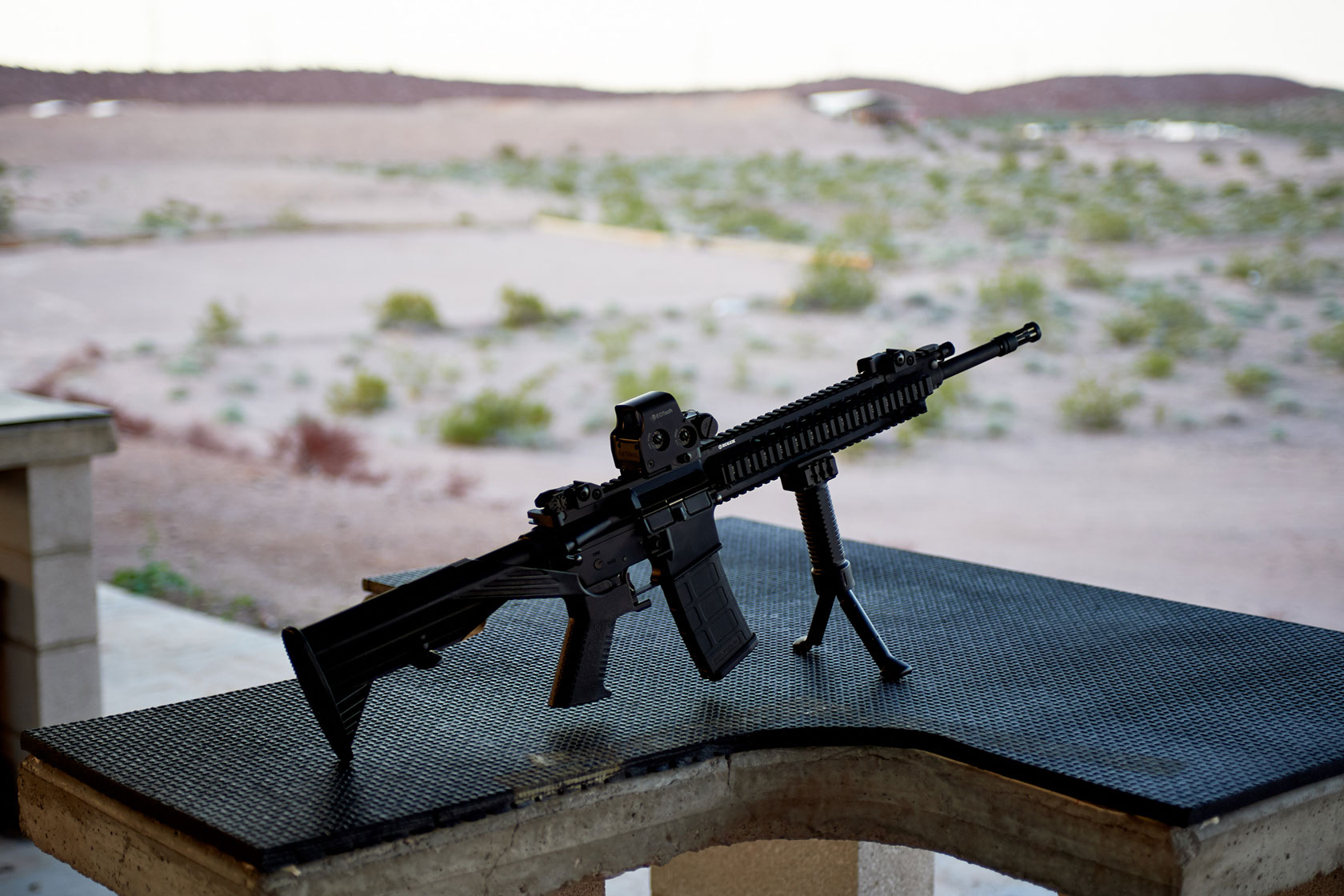 20 Jul

REPORT: Guns and Anti-Government Extremism in Nevada – 2022
Introduction and summary
The rise in violent white supremacist and anti-government extremism has permeated across the United States in recent years. All eyes were on Washington, D.C., on January 6, 2021, when—after years of rising tensions instigated by former President Donald Trump and his supporters—hundreds of militia groups and right-wing extremists attacked the Capitol. More than one year later, on May 14, 2022, a white 18-year-old espousing the racist "great replacement theory" fatally shot 10 Black people in a Buffalo, New York, grocery store.1 This white supremacist conspiracy theory posits that white people across the globe are going to be replaced by people of color.2
These devastating attacks did not occur in a vacuum. Gun violence prevention advocates had cautioned for months that the dangerous rhetoric could manifest in violent, deadly extremism; however, many did not heed the warning. In 2016, the Center for American Progress—in partnership with the Institute for a Progressive Nevada—released a detailed report3 on anti-government violent extremism in Nevada that echoed across the country. Nevada has an infamous history of violent extremist and anti-government actions by some residents.4 Now, the state is at a crossroads, experiencing rising extremist rhetoric alongside calls for weaker gun laws that, if combined, could be devastating and result in higher levels of extremist violence.
This report is an update on the 2016 Center for American Progress report5 and examines how the combination of rising violent extremist ideologies and weak gun laws can lead to disastrous results for state residents. This report also presents the following policy solutions, which can be used to prevent future violent extremist attacks:
Ban assault weapons and high-capacity magazines.
Ban guns at polling places.
Implement waiting periods for purchasing guns.
Enact preemption laws.
Address hate crimes.
Enact a licensing law.
Nevada has recently taken steps in the right direction by enacting extreme risk protection order laws, trigger activator bans, and child access prevention laws.6 However, more must be done to close gaps in state law that allow potentially dangerous individuals to access guns.
Origins and escalation of anti-government extremism in the United States
A major point of contention for anti-government extremists is that Nevada has one of the highest percentages of federally owned land in the country. In fact, more than 80 percent of Nevada's lands are public.7 Public lands are intended to be preserved by the federal government to protect them from ranching, mining, or other initiatives that can compromise the integrity of the land.8 Anti-government extremists believe that the federal government should have no role in owning land and will use extreme tactics to express such views. In 2014, an armed standoff between anti-government extremist Cliven Bundy and the U.S. Bureau of Land Management ensued after a yearslong battle to stop Bundy from using restricted public lands for his livestock to graze.9 Bundy and his supporters showed up at his ranch armed with guns and stationed snipers prepared to open fire on federal agents. This standoff is just one prominent example of the ways in which anti-government extremists use their opposition of public lands as a means for violence.
The anti-government and anti-public lands movement is not new. Its roots date back to the Sagebrush Rebellion—a movement that advocated for transferring all public lands from the federal government to individual states.10 The feud pitted millions of farms, conservationists, miners, and loggers against each other in a battle over who was best suited to manage public lands.11 Similarly, the 1970s Posse Comitatus movement believed that the federal government had no authority and citizens should band together to form "posses" and use violence to defend the Constitution.12 This movement evolved over the years but has traceable threads to many of today's right-wing, violent extremism groups.13 These groups—such as the 3 Percenters and Oath Keepers—share similar extremist ideologies. The Oath Keepers, for instance, believe it is their responsibility to forcefully defend the U.S. Constitution, if necessary.14 The Oath Keepers regurgitate conspiracy theories related to fears of mass gun confiscation, "The New World Order," global taxation, and other extreme and misinformed views.15 This rhetoric inflames a fire of fear and paranoia for its members and recruits, further fanning the flame of anti-government sentiment.
The Oath Keepers believe it is their responsibility to protect against government tyranny by arming themselves and showing up at demonstrations as paramilitary operatives or security. Oath Keepers rallied around Cliven Bundy in the 2014 standoff against the Bureau of Land Management, making up some of the more than 1,000 right-wing extremists armed with guns prepared to protect Bundy's livestock from being impounded after decades of illegally grazing on public lands.16 Militia groups such as the Oath Keepers have dangerous and extreme ideologies that manifest in real life. In the West, and Nevada specifically, these demonstrations are common due to the amount of public land and the stark opposition of extremist groups who have made these states home.
The January 6 insurrection at the U.S. Capitol was a violent demonstration of the ideologies that groups such as the Oath Keepers, Proud Boys, 3 Percenters, and other right-wing extremists take pride in. In the recent January 6 hearings, a former Oath Keeper member testified that his "time with the Oath Keepers began at the Bundy Ranch, at the first standoff."17 Many of these groups have members in Nevada. As of 2022, at least four Nevada residents were arrested for their involvement in the violent demonstration.18
Easy access to firearms in Nevada
In addition to the prevalence of extremist narratives, it is very easy to get access to firearms in Nevada. While the state has seen some improvement—including enacting background checks on some gun sales and prohibiting the sale of ghost guns—Giffords Law Center, which researches and grades the strength of a state's gun laws, gives Nevada a C+ rating, indicating that more needs to be done. 19 Currently, Nevada does not regulate assault weapons or high-capacity magazines, and individuals with misdemeanor hate crimes are still able to purchase a gun.20 This is particularly troubling because many anti-government and right-wing extremists have been known to stockpile weapons and ammunition.21
In October 2017, Nevada became home to one of the deadliest mass shootings in the country.22 A gunman armed with dozens of firearms, including automatic weapons and thousands of rounds of ammunition, killed 60 people and injured hundreds more.23 Nevada has the 18th-highest gun death rate in the country, with a rate of 17 deaths per 100,000—higher than the national average.24 According to the Centers for Disease Control and Prevention, from 2015 to 2020, 854 Nevada residents lost their lives to firearm homicide.25
Nevada police officers also bear the brunt of gun homicides. In March 2020, John Dabritz—a wanted, anti-government extremist—shot and killed Nevada Highway Patrol Sergeant Ben Jenkins after the officer stopped to check on Dabritz.26 That same year, three Nevada residents with alleged ties to the Boogaloo Bois, a right-wing extremist group that prepares for civil war and violence against police, were arrested with Molotov cocktails, an AR-15 with six magazines, a shotgun, and a pistol just before they allegedly planned to attack police at a "reopen Nevada" protest."27 Lastly, In 2014, a Nevada couple killed two police officers in a restaurant before committing a mass shooting at a nearby Walmart the same day.28 The couple left a swastika and a "Don't Tread on Me" flag on the body of one of the deceased officers.29 Anti-government and right-wing extremists have easy access to dangerous weapons and present a threat to public safety.
Nevada must continue to work to ban assault weapons and ensure that violent extremist individuals do not gain access to them.
Firearms and extremism present dangers across the country
The January 6 insurrection at the Capitol was only one display of violent extremism. Nevada specifically has experienced several instances where extremist ideologies led to armed attacks, but these attacks are seen across the United States. Public lands are not the only point of opposition for anti-government extremists. In fact, any action by federal or state officials that these extremists believe infringes upon their constitutional rights or goes against their personal beliefs, is opposed by these groups. The U.S. Department of Homeland Security (DHS) names the perpetuation of misleading and false narratives surrounding current events to be a contributor to the rise in violent domestic terrorism.30 For example, the DHS has found that some violent extremists that promulgate conspiracy theories online have praised the tragedy in Uvalde, Texas, where 21 people, mostly Hispanic Americans, were shot and killed and encouraged copycat attacks.31
In Belton, Missouri, in March 2020, white supremacist Timothy Wilson died during a shooting standoff with FBI agents.32 Wilson was a part of neo-Nazi groups and was wanted for buying explosives that he planned to use to target a local hospital.33 In Michigan in 2020, 13 men allegedly involved in an anti-government group were charged with terrorism, conspiracy, and weapons charges after they hatched detailed plans to kidnap Gov. Gretchen Whitmer (D-MI).34 A smaller group of six men met repeatedly for firearms training, combat drills, and practice building explosives. The men also stalked Gov. Whitmer and scouted areas around her home to plant explosives.35 The men involved in the scheme were aided by a known Michigan anti-government group.
During the protests against the killing of Jacob Blake by police in Kenosha, Wisconsin, armed vigilante Kyle Rittenhouse shot and killed two protestors and injured a third.36 Rittenhouse was one of several people involved in armed militia groups who gained a sense of confidence and authority to "protect" the city of Kenosha against individuals protesting police brutality. This armed vigilantism is synonymous with the far-right movement's tactics that undermine democracy and promote civilians taking up arms. Rittenhouse's recent acquittal of all charges harrowingly sparked celebration from some far-right extremist groups, who praised him for his actions.37
These instances of armed extremism are not isolated incidents. Rather, they are the dangerous consequences of people with violent extremist ideologies having easy access to firearms. Individually, easy access to firearms and anti-government extremism are threatening. When combined, the danger grows exponentially.
Policy recommendations
Nevada can take several steps to prevent gun-related violent extremists attacks and reduce gun violence within its borders by implementing the following policy recommendations:
Ban assault weapons and high-capacity magazines. Assault weapons are highly dangerous firearms that can fire multiple rounds of ammunition and greatly increase the likelihood of injury and death.38 These weapons are designed to result in maximum harm and do not belong in the hands of violent extremists or Nevada residents. A 2021 study found that the federal assault weapons ban that was in place from 1994–2004 resulted in a significant decrease in mass shootings.39 Researchers estimate that had the ban remained in place, it would have prevented 30 public mass shootings from 1995–2019 that killed 339 people and injured more than 1,100.40
Ban guns at polling places. Nevada residents should be free from fear and intimidation while exercising their right to vote. Additionally, some believe in the "big lie," the baseless claim made by some right-wing conspiracy theorists that the 2020 election was stolen by President Joe Biden, rather than democratically won. The myth of voter fraud seeps even into mainstream right-wing ideology in Nevada for those who may not consider themselves extremists. For example, the Nevada Carry website advocates for firearm owners to carry guns to polling places due to "potential violence and fraud."41
Implement waiting periods for purchasing guns. Waiting period laws require that a period go by, usually a few days, between the time a firearm is purchased and when the firearm is actually acquired.42 These laws can prevent split-second, rage-fueled gun homicides by mandating a period between the purchase and acquisition of a firearm, potentially allowing time for an intervention before a hateful and violent act occurs. 43
Enact preemption laws. Currently, Nevada has a restrictive preemption law that severely limits the laws local governments can enact to address gun violence. Nevada crime statistics communicate a lot about the need to update Nevada's current preemption laws. In 2021, Clark County saw 194 Forty-two percent of those murders were committed with firearms, and 21.6 percent were committed with a handgun.44 Clark County also saw 6,568 aggravated assaults in 2021.45 The majority, 36.2 percent, of these assaults were committed with a firearm.46 In contrast, Washoe county saw 26 murders and 1,561 aggravated assaults in 2021.47 Of the 26 murders, 42.3 percent were committed with a firearm and 38.5 percent were with a handgun. Of the 1,561 aggravated assaults, 34.7 percent were committed with a firearm.48 These differences highlight the need for local municipalities to enact their own gun laws. Constituents deserve a choice in how guns are regulated and used. In 2019, when a gunman killed 60 people and wounded more than 400 others during the Route 91 Harvest festival, the city of Las Vegas was not able to address it legislatively. Preemption ties the hands of local governments, even though cities and towns are where violence play out in the worst ways. Eliminating preemption allows these local governments to regain control and determine what is best for their constituents.
Address hate crimes. Nevada can take steps to address white supremacy, xenophobia, and hate by changing existing hate crimes laws. Currently, in Nevada, people convicted of misdemeanor-level hate crimes are still able to purchase and possess firearms. This loophole exists because Nevada's hate crimes are not considered a separate criminal offense; rather, they are treated as enhancements to an existing criminal offense.
Enact a licensing law. Nevada has taken tremendous steps over the past six years, from passing a ballot measure, to implementing universal background checks, to enacting extreme risk protection order legislation. However, this is not the ceiling; Nevada lawmakers should enact a law requiring individuals to obtain a license prior to purchasing a gun. According to Giffords Law Center, out of the 10 states with the lowest gun violence rates, nine of them have implemented licensing or safety requirements.49 It is clear that licensing works, as evidenced by states such as Connecticut, which has seen a 28 percent reduction in the firearm homicide rate and a 23 percent to 40 percent reduction in the state's firearm suicide rate from 1985­­–2017.50 According to the Educational Fund to Stop Gun Violence, the public supports licensing, citing that 75 percent of adults support it, including 60 percent of gun owners.51 The Nevada Legislature should continue strengthening gun laws by enacting a gun licensing requirement in Nevada.
Policymakers should work diligently to adopt comprehensive gun safety measures. These policies would help keep exceptionally dangerous weapons out of the hands of dangerous individuals and ensure Nevada residents are safe from gun violence.
Conclusion
Nevada has made noticeable efforts in preventing gun violence in the state by enacting important gun violence prevention laws. However, the state must do more to protect its residents from gun violence. Violent anti-government extremist ideologies will not only prevent future lifesaving legislation but also potentially roll back the progress that Nevada has already made. Nevada should implement legislation such as bans on assault weapons, as well as high-capacity magazines, ban guns at polling places, restrict open carry, and enact waiting periods for firearm purchases. Nevada residents deserve to live free of violent narratives and deadly weapons.