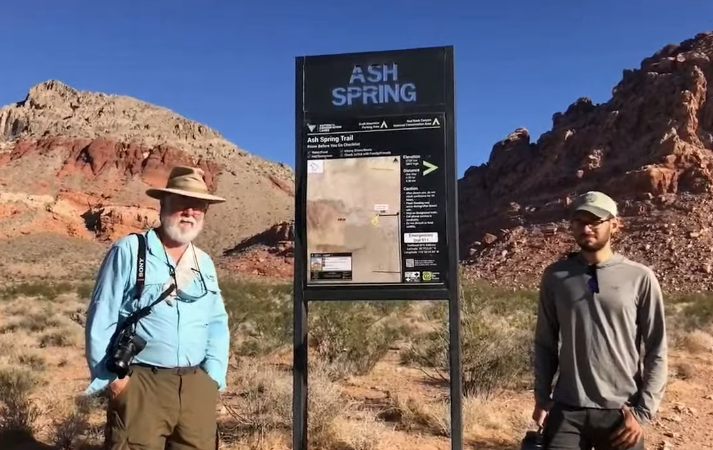 25 Sep

Release: Nevada Public Lands Day Virtual Celebration Educates Community, Calls on Nevadans to Get Involved with Stewardship of Outdoor Spaces

FOR IMMEDIATE RELEASE: September 25, 2021

CONTACTS: Will Pregman, wpregman@battlebornprogress.org, 702.752.0656

Angelyn Tabalba, angelyn@nevadaconservationleague.org, 808.232.9269

**VIDEO INCLUDED**

Nevada Public Lands Day Virtual Celebration Educates Community, Calls on Nevadans to Get Involved with Stewardship of Outdoor Spaces

**Link to Full Video Recording**

<cover photo>

NEVADA – Following a morning celebration of Nevada's outdoors on the state's 5th annual Public Lands Day, conservation advocacy groups held a virtual celebration targeted at a statewide audience with the intent to inspire and educate Nevadans on the importance of public lands, national monuments and parks, and their stewardship. 

Groups organizing the event included Chispa Nevada, Friends of Nevada Wilderness, Get Outdoors Nevada, Institute for a Progressive Nevada, Native Voters Alliance of Nevada, and Nevada Conservation League.

Highlights of the afternoon program included:
An Indigenous land acknowledgment given by Taylor Patterson, Executive Director of Native Voters Alliance of Nevada, followed by a discussion of sacred spaces in Nevada.
Flyover footage of Avi Kwa Ame, a.k.a. Spirit Mountain, the site of a proposed new National Monument in Nevada.
A chat with Reno Fire Chief David Cochran on wildfire safety and prevention, as it relates to public lands.
A virtual hike at Ash Spring Trail in Red Rock Canyon with Ecologist Jim Boone, Ph.D. and Nevada Assemblyman Howard Watts III.
A Spanish-language segment on the importance of getting outdoors in the Latino community, by Chispa Nevada.
Pre-recorded video messages from Senator Catherine Cortez Masto, Senator Jacky Rosen, Congresswoman Dina Titus, Congresswoman Susie Lee, Congressman Steven Horsford, Governor Steve Sisolak, and Clark County Commissioner Michael Naft.
A full recording of the event may be found here. 
"So many of Nevada's parks and outdoor spaces are inextricably tied to the forward thinking policies which allowed for and funded their creation. We are proud to once again celebrate all of our public lands, virtually, on the fifth annual Public Lands Day," Maria-Teresa Liebermann-Parraga, Deputy Director of the Institute for a Progressive Nevada, said. "I grew up visiting our public lands with my family here in Nevada, and we at IPN work consistently to ensure that future generations understand the legacy and importance of these lands. Additionally, we hope to make our public lands accessible to every community, especially communities of color, so they can have the same opportunity to fall in love with the great outdoors. Today is also about paying respect to Indigenous people, who were, and still are, the caretakers of many outdoor spaces we visit or recreate in. We hope that in spite of the pandemic, Nevadans were able to get outdoors with their friends or family today to learn about and appreciate our unique public lands."
"For Nevadans, our public lands are our history and heritage. They connect us with the generations before us who have walked and cared for these spaces and remind us of our responsibility to future generations of Nevadans who will soon bear the duty of stewardship and protection," said Nevada Conservation League Deputy Director Verna Mandez. "As climate change and extreme weather events continue to devastate our natural spaces, safeguarding our public lands and waters is more important than ever. We are proud to see such an extraordinary celebration during Nevada Public Lands Day and encourage public lands lovers to join the movement and the thousands of Nevadans who are fighting to protect these treasured spaces." 
"Friends was inspired to see so many Nevadans participate this week, and we appreciate all the hard work of the sponsoring organizations," said Grace Palermo, Southern Nevada Director for Friends of Nevada Wilderness. "Our public lands need more stewardship as more people desire to get out and appreciate them. Weeks like this help raise awareness of how important conservation really is." 
"Get Outdoors Nevada is dedicated to the stewardship of our public lands and shared outdoor spaces. Today's cleanup brought together 100 volunteers committed to the beautification of the desert trails at Mountains Edge Park," said Rachel Bergren, Get Outdoors Nevada Executive Director. "We invite the community to celebrate Public Lands Day every day and join us at a future volunteer event! www.GetOutdoorsNevada.org/Events."
"Public Lands Day is an exciting opportunity to honor the many public lands Nevada has to offer. While we honor these lands, it's crucial to honor the Indigenous people that are the traditional stewards of this land. Conservation would not exist without the work of generations of Tribal activists. Public Lands Day is the perfect time to highlight this history and the current work to preserve sacred spaces," said Taylor Patterson, Executive Director of Native Voters Alliance-Nevada. 
"Nevada Public Lands Day is an opportunity to honor and reconnect with our sacred outdoor spaces, from the stunning and pristine waters of Lake Tahoe to the spiny Joshua trees scattered throughout the Wee Thump Forest. But across the country, we are rapidly losing our natural lands to unruly wildfires and harmful development that will continue unless we take the bold action necessary to preserve these spaces," said Rudy Zamora, Program Director for Chispa Nevada. "That's why Chispa Nevada is working to do more to conserve our public lands and natural resources, which are critical in the climate fight that is already disproportionately impacting Latino communities and communities of color, and working to ensure all communities can access green spaces and take advantage of the benefits the outdoors have to offer. We are grateful to our leaders at the local, state, and federal levels who are leading the way in these efforts and we will continue working with our community to promote sustainable solutions for our future generations."
###