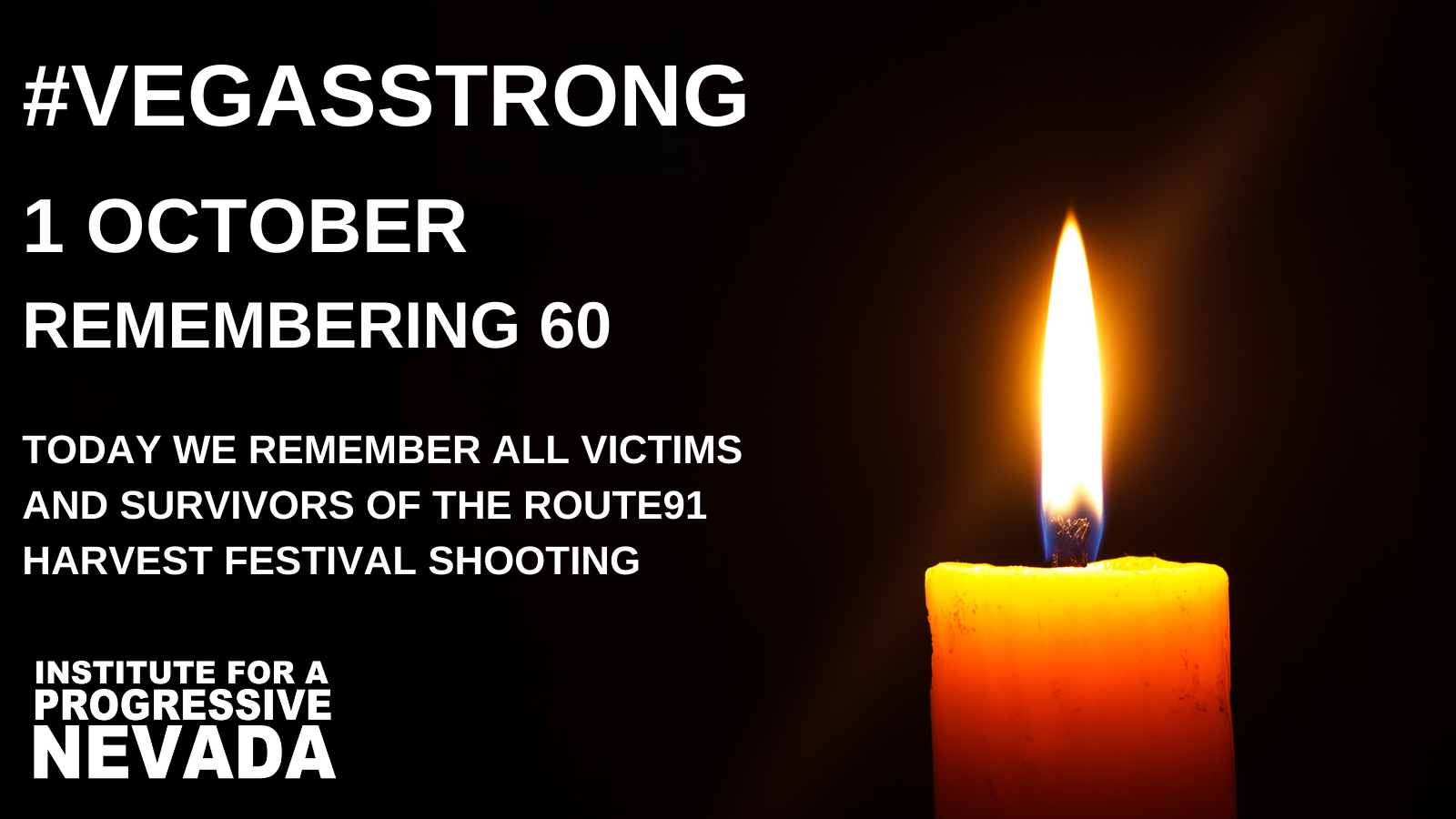 01 Oct

Release: 1October Shows Us The Strength Of Survivors Who Have Advocated For Change

FOR IMMEDIATE RELEASE: October 1, 2021

Contact: Will Pregman, wpregman@battlebornprogress.org, 702.752.0656


1October Shows Us The Strength Of Survivors Who Have Advocated For Change  


LAS VEGAS, NV – On the 4th anniversary of the Route91 Harvest Festival Shooting, we are reminded of all the lives lost and the survivors and their families who were changed forever by 1October. We thank Assemblywoman Sandra Jauregui for her courage after this horrific tragedy and seek to honor all of the families impacted by this senseless act of gun violence today and always. The best way to honor the lives we lost is through education and action on gun violence and we vow to continue that work. 


Annette Magnus, Executive Director of Institute for a Progressive Nevada, released the following statement:

"On the fourth anniversary of 1October our thoughts are with the victims and survivors. The trauma they have endured is unspeakable. We have seen survivors come together and rise above this tragedy in ways we never thought possible. Advocates have worked tirelessly to implement policies that will address gun violence in a meaningful way. Some of our elected leaders have stood as champions by introducing federal and state legislation to stop the epidemic of gun violence. We commend Congresswoman Dina Titus, Assemblywoman Sandra Jauregui and others who have shown us they are serious about solving this issue. Our lives have not been the same since October 1st, 2017. This tragedy forever changed Nevada and the Las Vegas community. But through it, we have pushed back against gun lobby lies and fear mongering to take real steps to keep our community safe. We are committed to ending this epidemic through meaningful policies that address the most pressing issues of gun violence in Nevada communities." 


Assemblywoman Sandra Juaregui, released the following statement:

"On each anniversary of 1 October, the raw pain and loss of that day rushes back as if it was just the night before. With this anniversary, I hope that the countless other survivors and families of victims know that they are not alone. Even as we support each other, the reality of the plague of gun violence that fell on our community that day is still an epidemic ravaging our country and I will continue my work on gun violence prevention so that no one else has to join the membership of our group."


SPOKESPEOPLE ARE AVAILABLE FOR COMMENT IN ENGLISH AND SPANISH


###

About Institute for a Progressive Nevada: Institute for a Progressive Nevada, through strategic communication efforts, educates, empowers and engages Nevada voters to build a state where everyone has a fair opportunity to succeed.