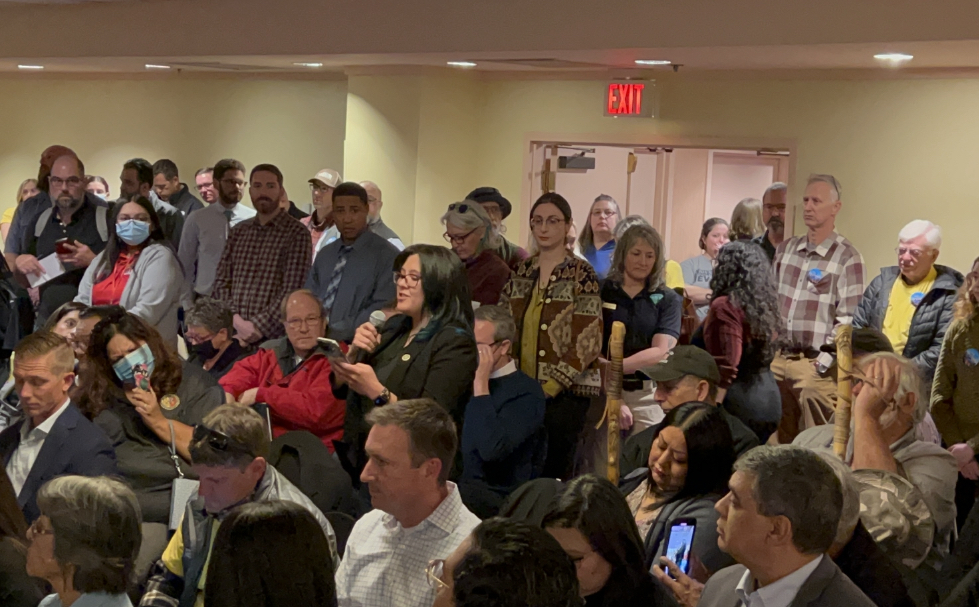 18 Nov
Conservation Groups Voice Support for Monument Boundaries at Meeting with Federal Officials
FOR IMMEDIATE RELEASE: November 17, 2022
Contact: Will Pregman, wpregman@battlebornprogress.org, 702.752.0656
Conservation Groups Voice Support for Monument Boundaries at Meeting with Federal Officials
LAUGHLIN, NV – Today, Tribal leaders and members of the Honor Avi Kwa Ame coalition attended a public meeting hosted by Bureau of Land Management and Department of Interior officials to discuss and hear testimony from Nevadans on the Avi Kwa Ame national monument proposal. In September, Interior Secretary Deb Haaland visited the proposed monument, following legislation being introduced in the House of Representatives by Congresswoman Dina Titus earlier this year.
"Avi Kwa Ame is critical in its spiritual importance to the Indigenous peoples whose land we now occupy, as well as its environmental importance as a diverse desert plant and animal habitat," said Annette Magnus, Executive Director of the Institute for a Progressive Nevada. "Southern Nevadans are privileged to have such a place right in their backyard. While much of the proposed land already enjoys some minimal levels of federal protection, designating this land as a national monument is key to bolster the protection of cultural artifacts and habitats for species like the desert bighorn sheep, or desert tortoise, who thrive and migrate through the area. This designation will also benefit the economies of small municipalities in Southern Nevada, through an uptick in interest spurring outdoor recreational tourism throughout the year.
But it is not up to us – this monument and its proposed boundaries are something that tribes and their leadership have been organizing around for years. We encourage the BLM, Interior, President Biden, and Congress to do right by the Indigenous tribes in the region and honor their requested boundaries. We'll continue to work with Tribal leadership, our coalition and stakeholders to see this designation through, and look forward to celebrating a brand new national monument in Nevada."
SPOKESPEOPLE ARE AVAILABLE FOR COMMENT IN ENGLISH AND SPANISH
###
About Institute for a Progressive Nevada: Institute for a Progressive Nevada, through strategic communication efforts, educates, empowers and engages Nevada voters to build a state where everyone has a fair opportunity to succeed.
About Avi Kwa Ame (Pronunciation: Ah-VEE kwa-meh): Sacred to 12 tribes, the proposed Avi Kwa Ame National Monument is at the center of Yuman creation stories and spiritual ideology and deserves permanent protection. Located between the Lake Mead National Recreation Area and the Nevada/California border, Avi Kwa Ame, the Mojave name for Spirit Mountain, could be Nevada's 4th national monument.  Covering more than 380,000 acres in southwestern Nevada, it is rich in both history and beauty. The proposed national monument includes petroglyphs; historic mining- and pioneer-era artifacts; rare and threatened wildlife such as the Mojave Desert tortoise and desert bighorn sheep.
To learn more, visit www.honoravikwaame.org. Follow along on social media on Facebook, Instagram, and Twitter