21 Feb

IPN Quarterly — Issue 7, Spring 2023

Welcome to the IPN Quarterly! You have made so much possible and we want to share a few success stories plus give you a peek at upcoming events and initiatives. Check out our IPN website right here and check out our new swag HERE. Don't you want to rock an IPN shirt? Get yours now.
BIG IMPACT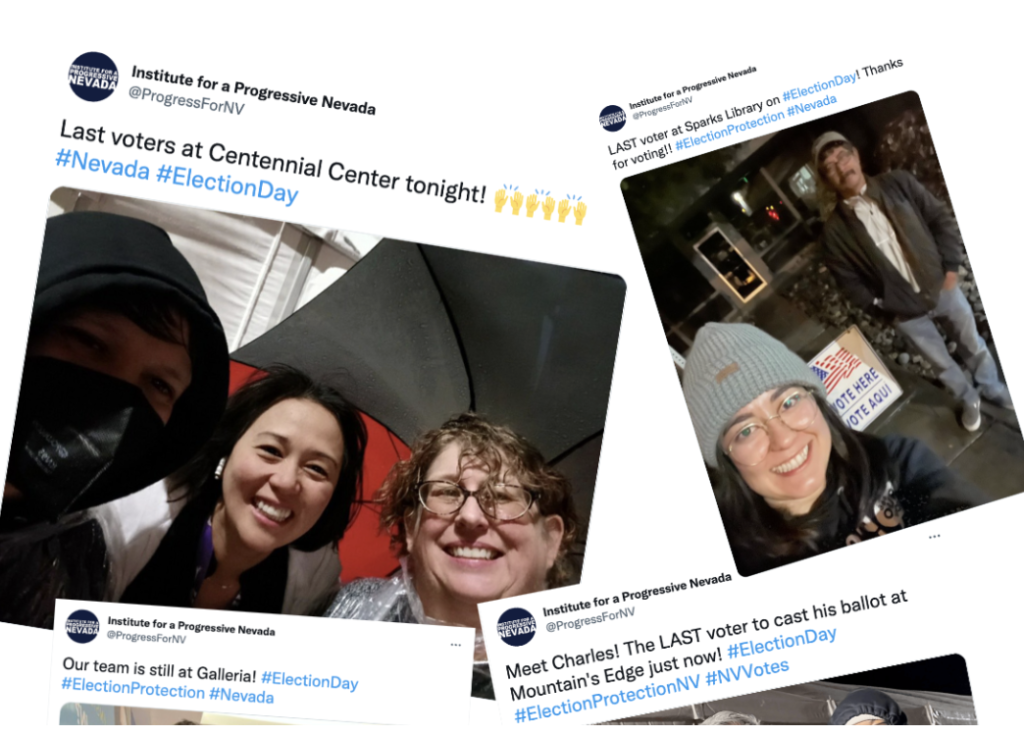 Well, here we are — we survived the 2022 election cycle, working our tails off to get voters educated and registered to make their voices heard.
Our staff spent the entirety of the first day of Early Vote, the last day of Early Vote, and both Early Vote weekends at polling locations to counter and report any voter intimidation that may have occurred. On Election Day, our staff monitored polling sites throughout the state, providing to-the-minute line updates on social media, as well as coordinating radio remotes and free food trucks at popular polling locations to take care of voters. Some reporters even caught our staff on camera assisting voters with snacks and guiding them to the lines!
You might also have seen our billboards, both static and mobile! We had billboards in Northern Nevada to educate voters about their rights and our resources (including our voter guide!), and mobile billboards at historically crowded or difficult voting locations in Southern Nevada.
You may have also heard us on the radio! We hosted 20 events around Las Vegas and Reno with nearly every radio station across the state, including popular favorites like KCEP, MIX 94.1, and La Buena. For these radio spots, we coordinated 50 guest appearances from our partner organizations to talk about why voting matters to THEM. Did you hear us on the radio?! You'd be one of 557,296 Nevadans who did!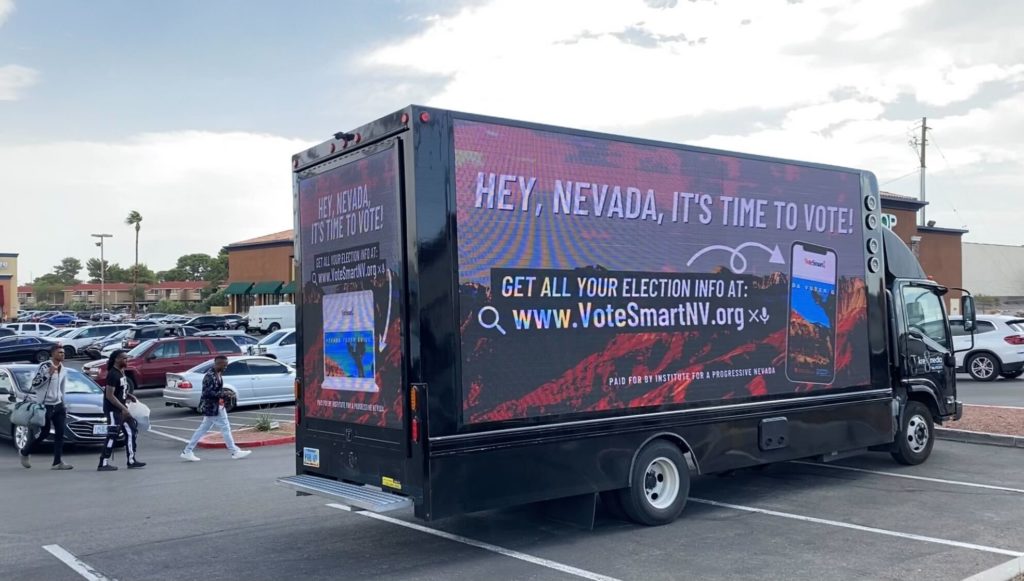 Did you happen to visit our VoteSmartNV Voter Guide this election season before heading to the polls? We worked with all of our partners of the Let Nevadans Vote coalition to create our questionnaires and get answers from ALL of the candidates on the ballot in their own words! This year, the VoteSmartNV Voter Guide was viewed 1,581,855 times between the Primary Election and the General Election — blowing the impressions from our past few years out of the water. We're so proud of the Voter Guide and we hope Nevadans will continue to use it to make their electoral decisions.
Now, with the election behind us, we're ready to advocate for progress at the Nevada State Legislature and will be finding opportunities to educate ALL Nevadans about the work being done to better their lives in Carson City.
With YOUR support, we've been able to make great strides in this work to educate Nevadans, whether it's about our public lands, our voting rights, gun violence prevention, or abortion access. Thank you for all that you do for us. Below are some action items if you're ready to take the leap and get more involved this season! 
Thank you, again, for all that you do for us.
WHAT'S THE STORY?
What creates change? That's easy — personal experiences shared with a legislator, amplified in your community, or told to a reporter. We love working with communities and individuals to help them tell their stories. This month, we reached out to storyteller Dora Uchel-Martinez of the Nevada Disability Peer Action Coalition to share what storytelling means to her:
"I think it's important to storytelling because everybody has different experiences in life. It's like the famous quote in the disability community: 'Nothing about us without us!'"
You can take part in monthly storyteller meetings and learn more about how to get involved in our community by joining our story bank! Submit your story here.
MEET THE TEAM

This quarter, we welcomed some new faces to the IPN team, and we'd love to introduce you to our new Story Bank Manager Erin Rook!
"I'm Erin (he/they) and I'm the new Story Bank Organizer for IPN and BBP. No, that's not my natural hair color, but I'm probably older than you think. (Geriatric Millennials, represent!)
For most of my life, "home" has meant Oregon. And yes, all the rumors are true. I'm a vegetarian, hybrid Subaru-driving, umbrella-averse, dog dad who lets people cut in front of me in traffic. I've toured the Tillamook Cheese Factory, visited the last Blockbuster on earth, and have been voting by mail for more than 20 years. (Seriously, it's not that big of a deal.)"
Want to join Erin's Story Bank? Sign up to share YOUR story here: bit.ly/StoryBankIPN
INTO THE FUTURE
Join us to continue our work on Gun Violence Prevention. As we work in the Legislature to educate our elected leaders about the need for gun violence prevention, we will be holding educational events and looking for folks to raise relevant gun violence issues in the media. Want to get involved? Contact Amber: afalgout@battlebornprogress.org.
We're still working to educate Nevadans about the danger of disinformation, and the impact it can have on our community and our elections. Want to get involved? Sign up or send in a piece of disinformation HERE.
We don't want to jinx anything, but we're getting closer every day to the designation of Avi Kwa Ame as a national monument, and IPN is a part of the coalition fighting to protect that sacred land. Stay tuned on our Facebook, Twitter and Instagram pages for details about getting involved.