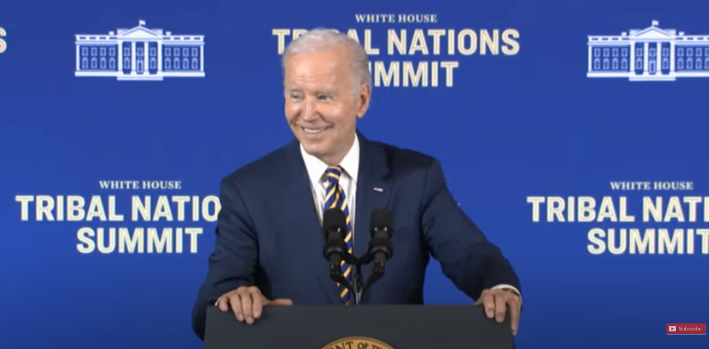 30 Nov
Progressives Encouraged by Biden Monument Announcement, Urge Respecting Tribal Boundary
FOR IMMEDIATE RELEASE: November 30, 2022
Contact: Will Pregman, wpregman@battlebornprogress.org, 702.752.0656
Progressives Encouraged by Biden Monument Announcement, Urge Respecting Tribal Boundary 
LAS VEGAS, NV – This morning, at the White House Tribal Nations Summit, President Biden made an announcement for his intent to designate Avi Kwa Ame in Southern Nevada as a new national monument, protecting the nearly 450,000 acre land considered sacred to several Native American Tribes. 
"Today's announcement from President Biden makes us excited and hopeful for an official designation of Avi Kwa Ame as a national monument in the very near future," said Annette Magnus, Executive Director of the Institute for a Progressive Nevada. "For Yuman-speaking Tribes, the Avi Kwa Ame territory is empirically tied to their creation, cosmology, and well-being. It is imperative that the oncoming designation honors the boundary proposed by Tribes, going back years, without alterations. We must remember, deciding what to do with this land is not up to us – this monument and its proposed boundaries are something that Tribes and their leadership have been organizing around for years. To not respect this proposal would fly in the face of what this week's Summit in Washington D.C. aims to achieve.
"Southern Nevadans overwhelmingly support this proposal, as evidenced by the testimony given in Laughlin earlier this month. Thanks to Congresswoman Dina Titus, legislation was introduced in the House detailing the boundary as well. While much of the proposed land already enjoys some minimal levels of federal protection, designating this land as a national monument is key to bolster the protection of cultural artifacts and habitats for species like the desert bighorn sheep, or desert tortoise, who thrive and migrate through the area. This designation will also benefit the economies of small municipalities in Southern Nevada, through an uptick in interest spurring outdoor recreational tourism throughout the year. 
"We encourage President Biden to do right by the Indigenous Tribes in the region and honor their requested boundaries. We're looking forward to hearing from the Administration and Interior officials soon on the next steps in protecting this sacred land."
SPOKESPEOPLE ARE AVAILABLE FOR COMMENT IN ENGLISH AND SPANISH
###
About Institute for a Progressive Nevada: Institute for a Progressive Nevada, through strategic communication efforts, educates, empowers and engages Nevada voters to build a state where everyone has a fair opportunity to succeed.
About Avi Kwa Ame (Pronunciation: Ah-VEE kwa-meh): Sacred to 12 tribes, the proposed Avi Kwa Ame National Monument is at the center of Yuman creation stories and spiritual ideology and deserves permanent protection. Located between the Lake Mead National Recreation Area and the Nevada/California border, Avi Kwa Ame, the Mojave name for Spirit Mountain, could be Nevada's 4th national monument. Covering nearly 450,000 acres in southwestern Nevada, it is rich in both history and beauty. The proposed national monument includes petroglyphs; historic mining- and pioneer-era artifacts; rare and threatened wildlife such as the Mojave Desert tortoise and desert bighorn sheep.
To learn more, visit www.honoravikwaame.org. Follow along on social media on Facebook, Instagram, and Twitter