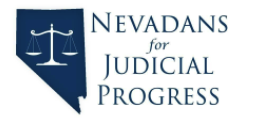 31 Aug

Activists Delivered 126 Beach Balls with Petition Signatures to Senator Dean Heller Demanding Action on Merrick Garland's Supreme Court Nomination
FOR IMMEDIATE RELEASE: Wednesday, August 31, 2016
***EVENT RECAP***
Community activists remind Dean Heller that summer vacation is over and it is time to do his job and stop the obstruction
LAS VEGAS – On Wednesday, August 31, Nevadans for Judicial Progress and local activists gathered at Senator Dean Heller's office to send him back to Washington D.C. with the message that he needs to do his job and ensure our country has a fully-staffed Supreme Court. The group delivered a large number of beach balls to Senator Heller as a reminder of the hundreds of Nevadans that have asked him and his colleagues to do his job move the nomination process along immediately.
President Obama's Supreme Court nominee, Judge Garland, has waited more than 160 days for consideration by the Senate. The long wait has had unprecedented impacts on Nevada and across the country. A number of cases were left in split decision, including United States v. Texas that would have addressed the president's immigration executive actions.
Senator Heller should be ashamed of this obstruction that led to justice delayed for many Nevada families and millions more across the country, it's long overdue for him to do his job.
Speakers at the event were as follows:
Annette Magnus, executive director of Battle Born Progress
Peyton Olsen, press secretary of NextGen Climate
Maria-Teresa Liebermann, deputy director of Battle Born Progress
Notes: Attached are clips from the event
Click here to view our petition asking Sen. Heller to #DoYourJob
Click here for more information on Nevadans for Judicial Progress and Why Courts Matter
###
About Nevadans for Judicial Progress: Nevadans for Judicial Progress is a coalition of organizations and individuals convened by the Institute for a Progressive Nevada/Battle Born Progress with the support of Legal Progress at the Center for American Progress.
These following 5 principles convey our goals:
Ensuring a fully staffed judiciary so justice is not delayed.
Bringing diversity of thought and background to our federal courts.
Keeping our judges accountable on the issues that matter to Nevadans.
Educating Nevadans on the importance of the courts in our day-to-day lives.
Uncovering procedural delays on judicial confirmation processes.